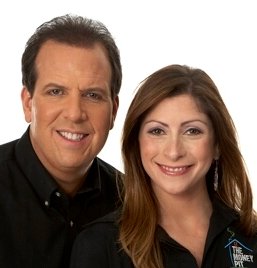 Sunday -- 12:00 PM - 02:00 PM
The Money Pit is a call-in radio show that helps you with your home repair and improvement problems. Each week, Tom Kraeutler and Leslie Segrete take dozens of calls on every imaginable home improvement need, from pest problems to deck dilemmas. Their combined experience and expertise allow them to offer solutions to a wide range of problems immediately.
Check their home improvement and remodeling website https://www.moneypit.com for how-to tips, ideas, and you can listen to the latest Money Pit shows.
The hosts:
Tom Kraeutler appears regularly as a how-to guru on network and local television stations including Fox, CNN, MSNBC, The History Channel, HGTV and the DIY Network. A successful author, columnist and blogger, Tom served as AOL's Home Improvement Editor. His work has been featured in House Beautiful, Smart Money, Reader's Digest and in hundreds of websites and newspapers across the nation.
Leslie Segrete is a home improvement expert with an eye for design. Leslie's television design career includes: "Hotel Impossible" Travel Channel, designer, "$100 Makeover" on A&E; as designer and host, she was the lead designer on The Ugliest House on the Block, on the We Network, and Leslie hosted the Emmy nominated WLIW special, "Going Green Long Island". Leslie was part of making design dreams reality as a carpenter and designer for TLC's hit series Trading Spaces and While You Were Out, where she designed, built and executed projects to please the participating families and millions of her fans every single week.
Call in with your questions at (888) 666-3974